The "Rachel Corrie" Seized at Sea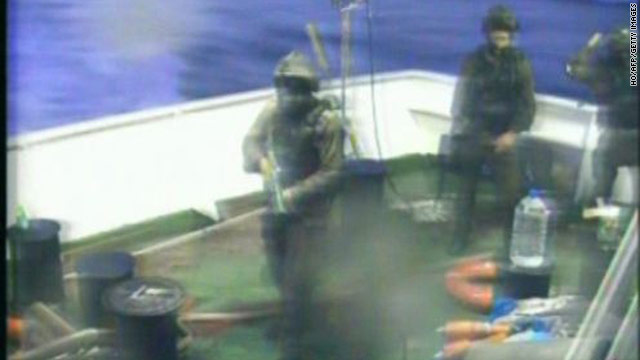 Just days after attacking aid ships to Gaza,
Israeli commandos attacked...
..another ship in international waters.
This time crew members and passengers aboard the Rachel Corrie* did not offer resistance and were all taken into Israeli custody without incident.
were unharmed, Free Gaza movement spokeswoman Mary Hughes said Saturday, but she sharply criticized Israel's seizure of the ship.
"This is unacceptable to be happening in international waters," she said.
The MV Rachel Corrie, a cargo ship loaded with humanitarian aid, had been heading for Gaza Saturda. Israel has been trying to block any aid or medical assistance to Gaza other than what they inspect and approve. The seizure came five days after violence erupted when Israeli forces attacked and boarded another ship attempting to bring aid and supplies to Gaza, leading to the deaths of nine people on board. Still others are unaccounted for and many others were injured and are now being held by Israeli authorities.
Here is the "Official Story" being released by Israel --
Israel naval commandos seized an Irish-owned aid ship headed for Gaza Saturday morning, officials said.
The Israel military admitted seizing the ship by force in international waters. According to offical statements, seizure of the vessel occurred 35 kilometers (22 miles) off the Gaza coast and this time there was no resistance and all aboard both crew and passengers were taken into custody.

"As far as I know there was no resistance or violence on the boat," Israel Defense Forces spokeswoman Avital Leibovich told CNN.
Q&A: Aid and Israel's Gaza blockade
Leibovich did not say whether anyone on board the ship had been arrested. She said the ship was being towed to Ashdod, Israel, where people on board would be handed over to immigration authorities and its cargo will be offloaded and screened.

Video: Gaza relies heavily on international aid

Video: Israeli rabbis on flotilla incident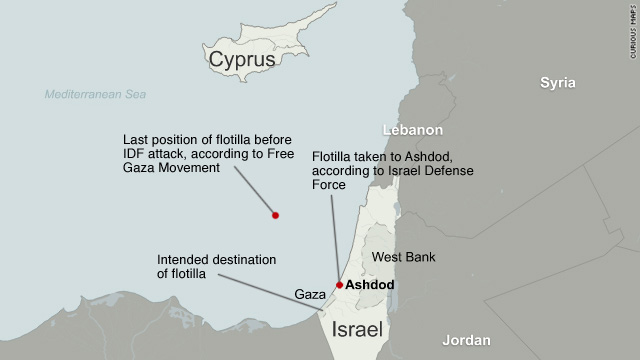 Map: Gaza flotilla intercepted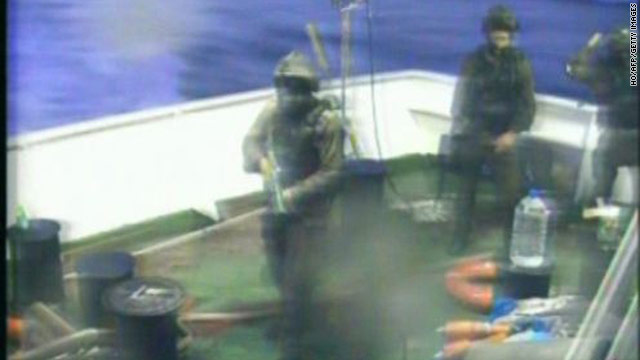 Gallery: Gaza aid convoy
She said Israel's naval blockade was in place to protect the country.
"You can never know for sure exactly who's trying to threaten your border... We have to be cautious in order to defend our people," she said.
The Israeli military said it sent several radio transmissions telling the vessel to change its course before boarding the ship.
A crew member on board the Rachel Corrie who spoke to CNN earlier Saturday said three Israeli ships had been following the ship.
Activists on the ship had said they would surrender peacefully if Israeli forces boarded the boat.
Israel had offered to unload the vessel's cargo in Ashdod, screen the material and deliver it to Gaza, but passengers aboard the ship rejected the offer, according to a statement from Micheal Martin, Ireland's minister for foreign affairs.
The Free Gaza movement, which owns the vessel, said there were 11 passengers and nine crew members on board.
Organizers say the ship was carrying 550 tons of cement to help rebuild schools, homes and other buildings destroyed in Gaza.
Irish Nobel Peace Prize laureate Mairead Maguire, who was aboard the ship, said Friday that the Rachel Corrie was also carrying "tons" of writing materials donated by Norway, pharmaceuticals and medical equipment -- including wheelchairs donated by Scotland -- and toys.
Israel's three-year blockade -- imposed after Hamas took over Gaza -- has deepened poverty in the Palestinian territory. According to the United Nations, 80 percent of Gaza's population depends on food aid.
Israel said its naval blockade is in place to stop weaponry from reaching militants in Gaza intent on attacking Israel.
"If, as is their stated intention, the Israeli government intercepts the Rachel Corrie, the government demands that it demonstrate every restraint," said Martin. He called on Israel to lift its blockade.
In Monday's incident nine Turkish citizens were killed after violence erupted on one of six ships in a flotilla carrying humanitarian aid to Gaza. A number of other people were wounded.
Israel said the passengers initiated the attack; the passengers said it was the troops who initiated it.
The violence has sparked official and grassroots rage in governments and streets inside and outside the Middle East.
At the United Nations, the Security Council called for an inquiry into the flotilla raid and the Human Rights Council voted for a probe, but Israel said it alone -- and not an international entity -- should be investigating.
The Israel Defense Forces military advocate general said Israel's interception of the flotilla was legal because international law allows a country to stop a vessel in international waters if it attempts to breach a naval blockade -- even before such a blockade is breached.
"We're just hopeful the Israelis will let us make a small gesture for the people of Palestine," Former Assistant U.N. Secretary-General Denis Halliday said Thursday. "Because we believe Monday was a gross error."
He added that Monday's confrontation is a "different ball game."
The "MV Rachel Corrie" (The MV Rachel Corrie was named for a 23-year-old American woman who was killed in Gaza in 2003 while attempting to keep IDF forces from bulldozing the home of a Palestinian)